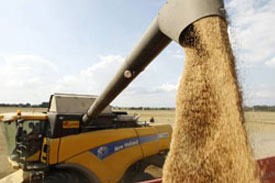 The Russian Agriculture Ministry said it would need to import 3 million tons of feed grain. The situation may be made worse by the fact that there is a shortage of fertilizer and equipment to sow the Spring crop. Russian authorities are talking to the Ukraine, Kazakhstan and the EU hoping to find feed grain supplies. A summer drought slashed the Russian harvest by a huge 38 per cent from last years level.
Although Russia had been the world's third largest wheat exporter it needs to look abroad now for its domestic needs.Russia plans to buy 2 million tons from the Ukraine a half million tons from Kazakhstan and another half million elsewhere. The shipments will start next year. Some of the Russian harvest is fourth grade and part of it may be used for feed. The total deficit of feed grain is about 5 million tons.
The government hope to increase the area sown with spring grain to compensate for loses due to the drought. But Russian Grain Union lobby group president Arkady Zlochevsky said Friday."There may be no increase in the [spring] sowing," "Taking into account that we have less fertilizer than a year ago and we have stopped buying new machinery ... this will inevitably affect next year's crop."Andrei Sizov Sr., president and chief executive of SovEcon estimated that the 2011 crop will come in at 80 million tons While this is below average it is probably enough for Russia to be self-sufficient.
Sizov forecast a big increase in domestic prices in January and said:"This will stimulate imports ... from neighboring countries, mainly Ukraine and to some extent Kazakhstan," In reaction to the higher feed grain prices farmers are already mass slaughtering animals. This may result in a lower demand for feed grains.Ziochesvsky said that if the profit margins fall below 40 per cent farmers cut production.
At present margins are below that. Ziochesky suggested that the Russian government should follow many western nations by supporting minimum prices:"The government should guarantee minimum prices based on production costs like in Europe and in the United States, where the state guarantees it will buy any quantity of grain at these minimal prices," "This will stimulate investments and [bring in] technologies."