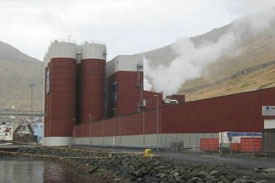 Cologne, Germany -- Food Certification International certifies feed producer Havsbrún in accordance with the new GLOBALG.A.P Standard for Compound Feed Manufacturers.
The launch of version 2.0 of its Compound Feed Manufacturing Standard is part of GLOBALG.A.P´s range of standards complementary to the Integrated Farm Assurance standard for livestock and aquaculture.
Marita Rasmussen (left) Hjordis Gregersen (right)When it comes to the production of livestock and aquaculture species for human consumption, the production and sourcing of compound feed play a crucial role for food safety.
Therefore, the compliance with the requirement in GLOBALG.A.P's IntegratedFarm Assurance standards for livestock and aquaculture regarding quality assurance for production, supply and purchase of compound feed is essential for the producers.
In 2009 the activities of the responsible technical managers and the sector committees for agricultural livestock and aquaculture at GLOBALG.A.P focused on the development of the new version of the compound feed manufacturing standard.
The experience and the commitment of specialists related to compound feed production helped to define the control points and the compliance criteria.
The CFM standard contains 204 Control points out of which 170 at level Major Must, 33 at level Minor Must and one at level Recommendation.
CFM v2 is valid from 1 March 2010 (compulsory from 1 January 2011). Certification Bodies willing to certify CFM v2 can apply for scope extension and need to achieve accreditation within 6 months.