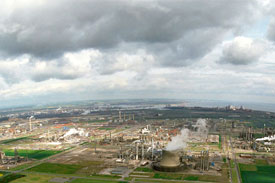 The spell of severe weather is not only affecting farmers and their livestock: yesterday the man behind what will be the biggest biofuel plant in western Europe expressed his frustration at the weather.
Alywn Hughes, the chief executive of Ensus, which when it is at full production will take in 1.2 million tonnes of wheat annually at its site on Teesside, said the final commissioning was being hampered by the weather.
Test runs in the plant were taking longer with pipes and pumps freezing up because of the cold but despite these last-minute frustrations and slight delays, he claimed they were now "very very close" to getting the whole operation underway.
The complex distillation process at the plant will convert the wheat into an annual output of 400 million litres of bioethanol, a green fuel.
This quantity is reckoned to be one third of the UK's requirement for this type of fuel. The operation will also help the UK and the EU hit targets on renewable energy.
Deliveries of wheat have already taken place with Hughes confirming there is already sufficient grain on site to start the process.
"It will take us several weeks to become fully operational. You have to remember this is a massive operation," said Hughes, who added that the business covers an area of 22 acres of ground.
The production of the bioethanol will also produce approximately 350,000 tonnes of high-protein animal feed making Ensus one of the EU's largest producers of animal feed.
Hughes said they had discounted any idea of using this product as a heat source because of the merits of using high protein feeds in a more efficient manner.
The bonus for this country is that this quantity of animal feed is currently supplied by imported soya and this source of feed will save on imports. The bonus for the world is that pressure for deforestation to grow soya crops will be reduced.
Funding for the total project amounting to more than £300 million comes from US private equity funds, the Carlyle Group and Riverstone. Both the supply of grain and the selling of the animal feed from the plant at Wilton will be carried out by Glencore, one of the leading grain trading companies in the UK.