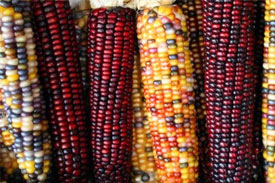 The European Commission on Monday approved Swiss company Syngenta's (SYNN.VX) genetically modified (GMO) maize type MIR604, a move that could enable the resumption of imports of soymeal and soybeans for animal feed.
Imports of soybean and soymeal from the United States for animal feed have been at a standstill since this summer, when more than 200,000 tonnes were refused entry because they contained traces of unapproved GMOs. [ID:nLM636606]
The 27-country European Union has a zero-tolerance policy on unauthorised GMOs. Approvals have been slow due to public safety concerns and have become a point of diplomatic tension.
The Commission, the EU executive, said in a statement that it had authorised the Syngenta maize type for food and feed uses and imports and processing.
"MIR604 maize received a positive safety assessment from the European Food Safety Authority and underwent the full authorisation procedure set up in the EU legislation," it said.
The clearance should ease short-term concerns over the supply of affordable vegetable proteins used by livestock farms, said Alexander Doering, secretary general of European feed manufacturers' association Fefac.
"We expect imports to resume now. Basically from now on, imports from North America such as soybean products and also maize products will be considered legal in EU territory," Doering said.
However, he said the EU's zero-tolerance policy still created legal uncertainty.
"We could face new problems ... if there are new traces of unauthorised GMOs in imports," he said.