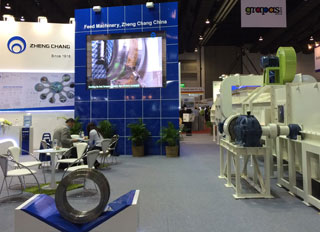 Zhengchang completed a trade show, as one of the main exhibitors at Victam Asia 2014 - an international exhibition for animal & aquatic feed, petfood and biomass technology in Asia Pacifics area, held from Apr. 8-10 in Bangkok. Zhengchang is in hot pursuit under the leadership of President Hao Bo. During the trade show, the company maintained contact with old customers while receicing hundreds of new clients as well.
At the trade show Zhengchang launched an number of new and update feed machinery including the improved SZLH558D pellet mill, the SSHJ2D high efficiency mixer, the DDQ160 air cushion belt conveyor along with three pellet dies.
The SZLH558D series pellet mill is a machine which is used to produce hard pellets and is applicable for the medium and large-sized feed companies. This machine has the features of compact structure, fine appearance, convenient installation, operation and maintenance, and reliable performance. Customers can order dies of different hole diameters according to the production needs.
The SSHJ2D high efficiency mixer dual-shaft paddle mixer is mainly adopted for non-cohesive powders so as to improve quality of the feed. It is an ideal mixing equipment with low speed, high efficiency, power saving and high quality. Each batch of material can generally by mixed to homogeneity within 30-120 seconds. This machine has the features of compact structure, fine appearance, less occupying space than other mixing equipment, quick and gentle mixing, stable performance, low noise, no dust, no environmental pollution.
The DDQ160 air cushion belt conveyor uses a thin film instead of the roller, which greatly improve the operation situation of the belt and reduce the frictional resistance. It is a fully enclosed structure, featuring small dust, low noise, environment-friendly, which meets the needs of green industry.
President Hao Bo always said as a Chinese professional supplier of pellet mill and animal feed stuff pellet mill manufacturer, we will supply "a harvest production line exists for happiness". We provide customers the most up to date pellet mill details and the most effective after-sale solution. Zhengchang will insist our core principle "creating value for customers" to satisfy our customers with quality products and services.
The president Hao Bo lead staffs to gain lot of important feedbacks from our loyal customers during the exhibition, and will constantly improve our products. As a stable, reliable, enduring and trustworthy partner, Zhengchang will make great contribution to the development of feed and grain industry for the world.