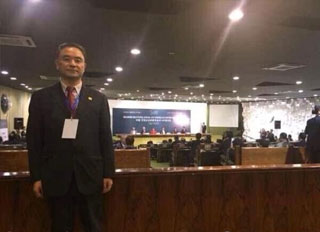 Chinese President Xi Jinping attended the "6th BRICS summit", in the capital Brasilia. Holding talks with Brazilian President Dilma Vana Rousseff, the two heads of state planned future development and increase cooperation between the 2 states.
Zhengchang Group chairman, Hao Bo Jiang, waqs one of a select group to be invited to attend the annual meeting. The invited companies totalling a 130 people, comprised mostly of large state enterprises, inclusing China Minmetals Group, China's Huawei Technologies Co., Ltd., State Grid Corporation, the State Nuclear Power Technology Co., Ltd., China Exim Bank, Industrial and Commercial Bank of China, Bank of China, China Construction Bank, etc.
Zhengchang, as one of China's largest feed machinery processing equipment and whole plant engineering companies, its products have been exported worldwide covering more than 80 countries and regions. In recent years, Brazil and other South American countries have become large markets for feed machinery, with their rapid economic development, especially in agriculture and animal husbandry sectors which are is a pillar industry of the Brazilian economy.
Brazil with its unique natural environment, land, biological and water resources, and a "founded on agriculture" development strategy, has become the world's third largest feed producer, with the country producing 66.99 million tonnes per year. Only behind China and the US in feed production numbers.
In recent years, Brazil has traded and negotiated contracts of approximately $30 million, with Zhengchang having long term cooperation with a number of feed producers in the country.
With the visit the Hao Bo Jiang, hopes that Zhengchang will see an expanpsion of cooperation and investment in Brazil, and help in the improvement in the level of the feed industry in the country. After the visit to Brazil the chairman is due to join a Government delegation to Buenos Aires, Argentina to participate in the "Agricultural Trade Fair in Ada Zong", in addition to increasing the profile of the company in the country and establishing long-term cooperation in the supply of feed machinery in the country.
Talking about the latin visit, Adams Lu assistant general manager of Zhenchang, said "We are planning a big project in Brazil and this will improve our business and support services in this country. We also see that Argentina is a big agriculture country and Zhengchang is also looking for opportunities here."