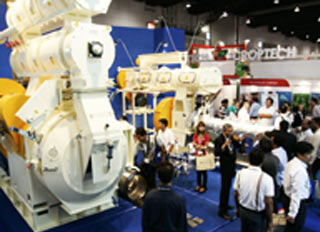 VIV Asia 2013, co-located with Aquatic Asia 2013, promises to be Asia's best technology showcase in animal protein production, including Feed & Health, Breeding & Hatching, Farming, Slaughtering as well as Further processing of pig & poultry meat, eggs, fish and dairy products. The 11th edition of VIV Asia, following the one-stop Feed to Meat business coverage, is organized during March 13 – 15, 2013 at Bangkok International Trade & Exhibition Centre (BITEC), Bangkok.
Mr. Gerard Leeuwenburgh, Director International Exhibitions of VNU Exhibitions Europe and Managing Director of VNU Exhibitions Asia Pacific; "Professionals in livestock and aquaculture industries selected VIV Asia 2013 & Aquatic Asia 2013 as their preferred meeting point. It's Asia's largest event, constantly organized every other year, for over 2 decades. It provides an effective platform for trade and ideas exchanging among animal protein professionals." The event provides tremendous business opportunities to regional buyers and sellers. This year, 747 companies exhibit in VIV Asia. China, Thailand, the USA, the Netherlands and France take the lead in terms of exhibitor numbers. The visitor attendance, expected from Asia, Africa and The Middle East, is expected to reach 25,000.
VIV Animal Health Summit Asia
This year's highlight is the VIV Animal Health Summit Asia, featuring the effects of using antibiotics in animal farming and curing, overall consumer trends and views, perception of antibiotics utilization, a case study of the Netherlands in reducing the use of antibiotics with 52%, as well as new alternatives as replacement and many more. The VIV Animal Health Summit Asia takes place on Thursday March 14.
CropTech-FeedTech & MeatTech: chain quality from start to finish
By using two essential themes, VIV aims to facilitate and stimulate production of high-quality animal protein in Asia's emerging markets. This themed duality is a leitmotif throughout VIV Asia: CropTech-FeedTech & MeatTech. "The quality of the end products - meat, poultry and eggs - is largely determined by what happens at the start of the chain. Consequently our partners - experts and exhibitors - present the best knowledge and technologies to produce the best end products. They do so at the exhibition, with machinery for Feed milling and with Meat processing equipment and technologies for consumer products. In addition to the exhibition we have a parallel program with conferences where we share the knowledge contained within the chain with visitors. Our two themes literally define the VIV concept 'Feed to Meat'. What you do at the start of the production chain with respect to quality, forms the basis for the quality at the end of the chain", states Ruwan Berculo, Project Manager VIV.
Dairy Production Conference
For the first time, VIV Asia addresses the dairy industry with the launch of a 100%-dedicated Dairy Conference, scheduled for Thursday March 14, 14h00-16h00. Following the theme 'Taking the Asian Dairy industry into the 22nd Century', international Key notes present visions and solutions for the Asian Dairy industry in the field of Breeding, Animal health and Nutrition.
Aquatic Asia 2013
For the second time, Aquatic Asia is organized in co-location with VIV Asia. The decision has been made explicitly to stage two events. "We want to give Aquatic Asia a distinct profile of its own. There are approximately 23 specialized exhibitors. In addition there are around 150 VIV Asia exhibitors providing products for the Aquaculture sector," explains Guus van Ham, Project Manager VIV & Aquatic Asia. For the Aquatic Asia Conference, partnerships have been established with renowned institutes and organizations, like the Thai Department of Fisheries, Blue Aqua, Aqua Biz and Bayer Animal Health. These will cover all aspects of the entire production chain right up to retail level. There will also be a conference on Global GAP Certification for Good Agricultural Practice. The common denominator of the conference program is sustainable development.
TCEB
Mr.Thongchai Sridama, Board of Director and Acting President of Thailand Convention and Exhibition Bureau (TCEB), an official supporter of VIV ASIA 2013, said "Thailand Convention and Exhibition Bureau or best known as TCEB is the government agency working under the direct supervision of Prime Minister Office of Thailand. Our primary mission is to promote the MICE industry in Thailand. And VIV Asia is regarded as the pride of Thailand which is recognized and praised as the world's most promising meeting point to boost your future business from Feed to Meat. Especially for this year, TCEB once again selected VIV Asia to be one of the international regional trade exhibitions under its "Better the Best" campaign. VIV ASIA 2013, to be held this year, has received full support contributed by TCEB for three consecutive years. TCEB provides both financial and non-financial support to VIV Asia which includes international marketing activities and specific promotions, campaigns, roadshows and business matching events in different countries. This aims to increase business opportunities for exhibitors to meet and talk and encourage more buyers to attend. We offer all these to help our overseas participants maximize the value of their visit to Thailand." In addition to direct benefits such as multiplying trade value through repeated buying and selling, boosting business knowledge sharing between entrepreneurs and enhancing Thailand's position as a regional processing and packaging hub, an indirect benefit involves encouraging cash flow spurred by spending of international exhibitors and visitors. Moreover, it reflects the country's potential and capability for hosting international trade shows." Interested entrepreneurs, government officials, educators and students are welcome to visit VIV Asia 2013 and Aquatic Asia 2013 during March 13 – 15, 2013, from 10.00-18.00 hrs. at BITEC.
For further information, please visit these websites: www.viv.net and www.aquatic-asia.net