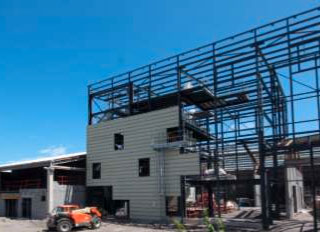 PetFood Run will become the first company 100% engaged in the production of pet food in Reunion, once it's processing plant opens later this year. The company aims to conquer a highly competitive market which is currently fully dependent on imports.
PetFood Run was founded in May 2010, after results from market research showed the potential of the petfood industry in Reunion. It was founded by four companies, who form part of the Urcoopa Group: Cooperative of oars, Agricultural Cooperative Northeast (NSAC), the Pork Producers Cooperative of La Reunion (CPPR) and Sicalait.
The company and its pet feed processing plant is located in the industrial area of Cambaie / Saint Paul, Reunion. With a total investment of of nine million euros (USD$11.7 million), the new company started construction of its new headquarters on top of the site of an old industrial building. A total land area of 7000m2, with the pet food processing plant occupying 2400m2 of it.
The company plans to manufacturer exclusively dry food in the beginning, with plans to move onto cat food in the future. The dog feed plant will initially run 8 hours a day, on weekdays only. This production capacity will then be adjust according to market demand.
The maximum production capacity of their pet feed plant is 6,000 tonnes, with Renuion's current market for pet feed currently representing 12,000 tonnes (dry dog feed) and 5,000 tonnes (mash feed) per year.
The company aims to sell 3,000 tonnes in it's first year of business and reach 50% market share in five years.
PetFood Run began construction of their pet food processing plant in July 2012. It is expected to be completed in June this year, with production expected in September or October.