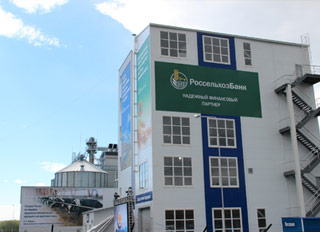 Today the governor of Kuzbass, Aman Tuleyev, and Minister of Agriculture of the Russian Federation, Nikolai Fyodorov, visited Kemerovo dairy factory to attend the opening of a new factory for the production of animal feed.

Production started in the second stage of the investment for the construction of the livestock sector and dairy farm closed cycle. The total cost of construction of the equipment for the feed mill is estimated at 450 billion rubles.
Built in just 9 months, the new feed plant is the largest in Siberia, with a production capacity of 10 tonnes per hour.
Modern equipment allows to balance the feed by 24 components: for heifers and adult cows, and if necessary - for other animals.
In addition, a single technological chain from feed mill will work process rapeseed. The result being rapeseed cake fresh to use in the production of feed, along with rapeseed oil that will be sold out.
The feed mill will not only satisfy their own feed demands, but they will have extra allowing them to sell their products to farmers Kemerovo region, as well as in neighbouring regions - Novosibirsk Oblast and Altai Krai.
Most importantly - a balanced feed with all the necessary vitamins, useful additives allow dramatically increases milk production of the highest quality and have the same Vaganova of not less than 10 thousand pounds of milk per cow per year. It is comparable to the the same level of the best in Russian and Europe.
In addition, thanks to the opening of a new plant to increase processing of grain, which is a major component of feed. "Instead of selling surplus grain as raw materials at low prices, we will get out of it a product with a high added value," - said Aman Tuleyev
"Creating high-tech, world standards of production made possible by effective cooperation LLC" Vaganovo "and RAB. Currently, the total investment of the Bank in a project to build a dairy farm exceeded 1.5 billion rubles, the total cost of the project to date - more 1.8 billion rubles. Loan funds allowed the company to successfully develop and build the biggest cattle-breeding complex in Siberia "- said the director of the branch Galina Frolova.
Investments in the Vaganova livestock complex totalled 1 billion 841 million rubles, of which 450 million rubles holding company invested in SDS construction and equipment of its own feed mill.