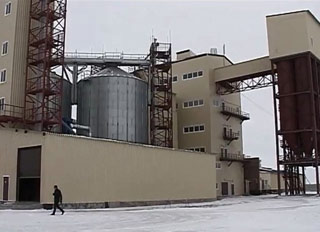 A new 40,000 tonnes per annum feed mill has been commissioned in the southwestern Siberian Oblast of Omsk, earlier this month.
The feed mill located in the village of Sosnovka, in the Central Asian Kormilovsky area was commissioned on 6th of March. The feed mill built by the agricultural holding "Rusko-Agro" was constructed next to the already present commercial pig unit and poultry farm.
The new feed mill is expected to reduce the cost of procurement of feed ingredients, improve the production process, while creating up to 100 new jobs in the area.
The plant is designed to produce 40,000 tons of compound pellet feed per annum. The designed capacity will increase the capacity up to 200 tonnes or more per day. 100 million rubles was invested in modern production facility. At the initial stages of operation, the feed mill will produce feed for their own consumption only.
"With the plant at full capacity we plan to sell feed at subsidized prices to the local market, which will help local farmers maintain their own subsistence farming", a press officer for the local government said.
The official commissioning of the plant was attended by Governor Viktor Nazarov. Head of the region, who visited the company, the production plant, and spoke with managers and staff of the production facility.
Nazarov was informed of other investment projects for further development of the production site in Kormilovsky agricultural holding area. Currently under construction are an elevator complex with a storage capacity of 30,000 tons of grain. All construction work is expected to be completed by August.
Victor Nazarov continued saying that the agribusiness in the area will help with development of the area, increase job opportunities for locals, and increase the profitibility of agriculture in the region.