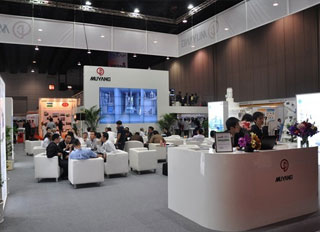 As the most popular international trade show for customers from the animal feed and grain processing industries, this year's Victam attracted more than 300 exhibitors and thousands of visitors from all over the world.
This event is held annually, alternately in Europe and in Asia. At this year's Victam in Bangkok, Muyang occupied a booth covering 400 square meters and presented its latest SZLH580-XW pellet mill and MY165E single screw extruder for the first time to the world.
The SZLH580-XW pellet mill is equipped with the unique twin gear-shaft driving system which multiplies the motivity of the equipment, achieving stable performance and low energy consumption.
In addition, the numerous visitors from the feed processing industry were shown through the 3D animation played on the16m2 LCD screen Muyang's ability to construct a complete feed mill for customers.
They could also satisfy themselves of the information on the complete product portfolio as well as customer service and many other solutions helping to run a plant with maximum profitability.