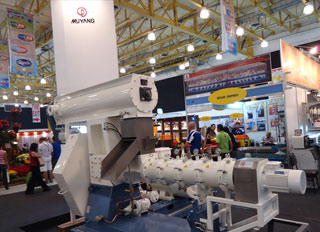 Muyang held a series of supplier conferences in the third quarter before moving most of its production activities to the new production site in April, 2013. A total of 147 representatives from 111 Muyang suppliers took part in the conferences.
Muyang Chief Production Officer, Mr. Li Xinfa, who hosted the conferences, thanked all suppliers for their long-term supports and become part of Muyang's competitive advantages. He made an introduction on the new production site, and pointed out that though supplier performance has improved in past years, there is still a lot to be done, especially when the new production site formally running, new standards would be set to suppliers' delivery in order to synchronize them to the state-of-the-art flow production system. "There are favorable long-term trends in China and global agriculture markets where Muyang doing business," he said: "hope that we could grow together in the future."
Suppliers' aspiration were rising on the conferences, they showed great passions and exchanged ideas on the topics of cutting cost, improving workmanship, shortening delivery time, optimizing supply chain, new acceptance standards and the collaboration with Muyang in the future.
Exceptional outsourcing is one of the competitive strengths for Muyang to develop a worldwide diversified business and provide flexible solutions that meet the exacting customer requirements.
Muyang masters advanced machine building and plant engineering technologies. It manufactures core components and products in its own workshops while sourcing qualified machining and fabrication of components from suppliers' workshops under a strict Production Direction & Quality Control System, and performs product assembly and testing in its own workshops. This business model enables Muyang to deliver customers high quality and cost-efficient products in short cycle.