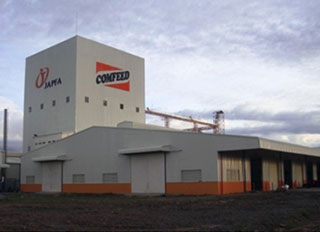 Feed producer Japfa Comfeed Vietnam, subsidiary of PT Japfa Comfeed Indonesia, will have 2 new feed mills opening in the next 2 years in order to meet the growing demands for pig feed in Vietnam.
The first feed mill is currently under construction. It is located on 7.6 hectare of land in the northern province of Hoa Binh, and will cost VND600 billion (USD$28.8 million) to build.
The feed mill will have a capacity of 156,000 tonnes per annum, and is scheduled to open in June of this year.
Speaking about the feed mill, General Director at Japfa Comfeed Vietnam, Sanjeev Kumar said that "with (the) huge development potential of the animal feed industry and a favourable investment environment, we decided to build the Hoa Binh animal feed plant with an aim to meeting the market's increasing demand."
The second feed mill is due to start construction in the middle of 2013, and will be located in Binh Dinh province. This feed mill will have a capacity of 180,000 tonnes per annum, and is scheduled to be operational by the end of 2014.
Japfa Comfeed Vietnam has targeted to reach one million tonnes of animal feed production by 2015, and two million tonnes by 2020.
The Hoa Binh feed mill will be the company's fifth feed mill in the country, and the Binh Dinh feed mill its sixth.