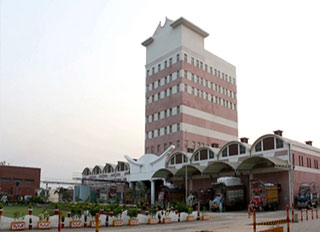 Jadeed Group, one of the leading producers in Pakistan, recently signed a contract of a 120 TPH FAMSUN poultry feed mill with Muyang. The project is situated at Shah Kot, Sheikhupora near Faisalabad. Current plans and schedules anticipate completion of the new feed mill in March, 2016. After completing this project, Jadeed is able to provide a comprehensive range of competitive poultry products and after sales services to meet the total needs of its customers.
As the contractor, Muyang will deliver the 120 TPH poultry feed mill a packaged of quality and efficient poultry feed production solution from raw material receiving to grinding, proportioning & mixing system, pelleting, cooling, bagging system and accessorial systems.
This is the second cooperation between Jadeed and Muyang in recent years. In 2009, Muyang constructed a 60 TPH (1200 bags per hour) feed mill for Jadeed. All feed machines were supplied by Muyang. The feed mill has been functioning smoothly so far.
Founded in 1984 and aims to be a reputable company playing a key role in poultry industry in Pakistan, the Jadeed Group of Companies has expanded manifold and diversified and has developed a vertical agribusiness involving Parent Stock, Day Old Chicks, Poultry Feed All Range, Breeding Farms, Hatcheries, Packages, etc. Headquartered in Rawalpindi, close to Islamabad, the Group now has its offices in all big cities of Pakistan and network of agents in all towns of the country.
Over the years it has made phenomenal progress and grown into one of the leading enterprises in Pakistan. It also has the distinction of being awarded commendation certificate of Govt. of Pakistan for highest Broiler Chicks Production.