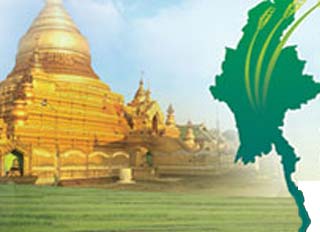 New opportunities and potential in Myanmar's Agriculture sector, Cash & Industrial Crops, Livestock, Feed and Food Processing Technology
1. Singapore, 06th May 2013 – 2nd Into Myanmar AgriTrade, Investments & Technology Global Summit is scheduled to be held from 19 to 20 June in Yangon, Myanmar. This 2013 summit has been expanded to include a third day on Myanmar's Livestock, Feed & Food Processing Opportunities on 21 June 2013.
2. A new Foreign Investment Act was passed last year, providing incentives and protection for foreign investments into the country. New by-laws, including for the agricultural sector and on investment in agricultural land, once these are passed, will provide more clarity and confidence to the foreign investor. With more investments in post-harvest activities, better quality rice with competitive prices will be exported. Countries such as the US, Japan, Korea, India, China, Taiwan, Israel, the Netherlands, Belarus have undertaken to transfer relevant farm and crop technologies to Myanmar farms, improving productivity and efficiency. At the same time, new markets such as Japan, Korea, Russia and the Middle East are being sought for Myanmar farm produce.
3. As Agricultural and farm development remains top priority in Myanmar government's development policy, Into Myanmar: Agri Trade, Investments & Technology Global Summit 2013 explores the opportunities to tap into the rich agricultural potential of Myanmar and highlights the emerging investment, production, agricultural processing & trading opportunities as Myanmar regains its pre-eminence in the global agricultural community
4. The summit also provides an update on market potential and new business opportunities in Myanmar's livestock sectors including setting up distributorship and agency network, meeting the animal health and feed needs, regulatory & registration challenges, potential for Livestock products export.
5. This All-Myanmar Summit, the second in the series, is organised with the support of the Myanmar Rice Federation, Myanmar Farmer Association, Myanmar Pulses Beans & Sesame Seeds Merchants Association, Myanmar Livestock Federation, Myanmar Fruit, Flower & Vegetable Producer and Exporter Association, Thai Rice Exporters Association's Agricultural and Food Marketing Association for Asia and the Pacific and Animal Production and Health Commission for Asia and the Pacific
6. Leading global companies will be showcasing their products, technologies and equipment including Korea Daewon GSI, Turkey's Alapala Group, Belgium's DRL Import & Export Co, India's Fowler Westrup.
7. The CEO of the conference organizing company, Magenta Global Pte Ltd, Singapore, Ms Maggie Tan, said "We are very pleased to be working with the various stakeholders in the Myanmar agricultural sector to promote and spur developments in this sector. More than 200 participants from some 25 countries will be attending this Summit to evaluate trade & investment opportunities & structure new business partnerships and trading arrangements. This is the only comprehensive event that brings the governments, state owned trading companies, local & international conglomerates, traders, buyers and sellers from the entire value chain together in one singular setting."
8. For more information about the summit please visit http://www.magenta- global.com.sg/myanmaragritrade2013/

About Magenta Global – Owner & Organizer
Magenta Global Pte Ltd is a premier independent business media company that provides pragmatic and relevant information to government & business executives and professionals worldwide. The organization provides the opportunity to share thought-provoking insights, exchange ideas on the latest industry trends and technological developments with thought leaders and business peers. With a strong focus in emerging economies especially in Africa, Middle East & Central Asia, Magenta Global works in partnership with both the public and private sectors. www.magenta-global.com.sg.