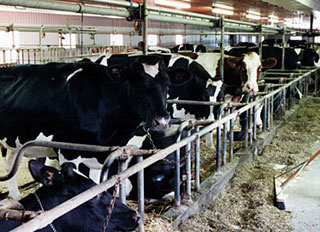 Gujarat Chief Minister Narendra Modi today inaugurated a cattle feed plant, located in Katrva village, Deesa taluka, Banaskantha district.
The feed plant has a capacity of 1,000 tonnes of cattle feed per day, making it the largest in Asia. It cost Rs 140 crore (USD$30 million).
The feed mill is owned by Banas dairy, and was bulit with the view to becoming self sufficient in the feeding of its dairy cattle. They will also supply feed to other companies in the area.
The construction of the feed plant, comes as Banas Dairy has continued to grow strongly. In 2001, the company produced 3.5 lakh litres of milk, today they are set to product 35 lakh litres.
The minister at the inauguration said that the district of Gujarat had witnessed a 68% rise in milk production.
The feed plant is expected to give new lease to cattle and cattle owners to raise milching capacity of their cattle.