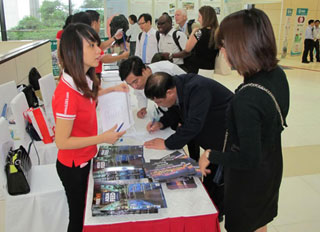 The 5th International Ildex Vietnam exhibition concluded yesterday at the Saigon Exhibition and Convention Center (SECC).
The livestock, dairy, meat processing and aquaculture exposition held by exhibition company Asia Pacific VNU, was held from the 19-21 March.
180 companies from 26 different countries exhibited at the trade show.
Exhibitors at the trade show included a number of companies manufacturing feed milling equipment and machinery, including AWILA, Buhler (Changzhou), Muyang Group, Peja Vietnam, PTN (Pelleting Technology Nederland), Shanghai Bai Qin Machinery, Van Aarsen and Wynveen.
Seminars at the expo included:
- Cambodia, Laos, Myanmar: Livestock and Fishery Industry overview. Myanmar Investment Opportunity: Business matching with Myanmar Fishery Association
- The new Fra Mocules to beat Pathogens
- The Meaning of L-Tryptophan in Pigs
- A practical look at Biosecurity
- Application of new technology for HF cattle in Vietnam
- Recent progresses in aquaculture nutrition
- Enzymes for Immunomodulation to do prevention against Viral exposure
- Using AMERVAC vaccine for PRRS prevention in Vietnam
- Processing livestock waste and retrieving biogas generator in CDM form
- Reflections on Food Safety & Testing
- Production, sales and management of animal feed industry in Vietnam
- Nutritionist in optimizing livestock economic efficiency and reducing environmental pollution