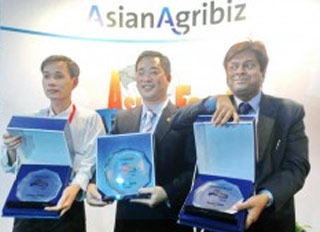 Leading Vietnamese feed producers GreenFeed won the award of Asian Feed Miller for 2013. The company beat runners-up Dabaco from Vietnam, and Anmol Feeds from India, who won the new Emerging Miller Award
Handed out at the VIV Asia feed industry exhibition in Bangkok, Thailand, it was the fourth time that the award had been presented.
As winners of event they won a trip for 2 to a global feed or animal husbandry show such as Eurotier, VIV Europe or Victam International.
Founder and CEO of ADDCON, Bernd Kochannek said, "We have been proud sponsor of the award ever since it has been initiated in 2009."
"We believe that such an award does not only help the winner in getting the reputation they deserve for all their hard work, but it motivates also other feedmills in the region to further improve the quality of their feed".
The award was judged on industry leadership, use of technology, quality control and saftey and logistics.
Greenfeed won the Asian feed miller award due to the innovation they have shown in the very competitive market of Vietnam along with Cambodia.
Bernd Kochannek added "The last years, which have been characterized by high raw material costs yet tough competition in the feedmill industry made it clear that only dedicated feedmills will be able to stay in the market. Greenfeed has done great in the past and we think that Greenfeed will do so in the future."
Greenfeed is the largest domenstic producer of feeds, in a market dominated by foreign companies, including CP of Thailand and Cargill of the US. The company operates five feed mills (four in Vietnam - in Long An, Hung Yen, Binh Dinh, and Dong Nai Province, and one feed mill in Kompong Cham in Cambodia), nine feed deopts, and has a network of over one thousand distributors covering the whole of Vietnam.