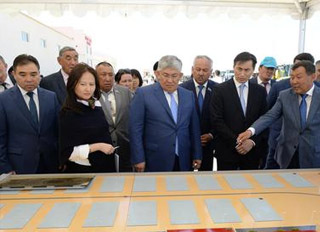 Kazakh company Zhan Arai Zhem has launched its new compound feed mill in Kyzylorda oblast.
The plant built under the state program of industrial-innovative development cost a total 375 mln KZT (USD$2 million). Commissioning work on the feed mill was completed was completed in mid-May with feed mill inauguration ceremony of its opening held on the 28th May.
The modern plant is equipped with German feed milling machinery and equipment and is the first plant in the Kyzylorda oblast for the production of compound feed.
It is expected that the plant will annually produce about 30,000 tonnes of feed. The plant's capacity is 5 tonnes per hour or 120 tonnes a day. The plant will produce 2 types of feed: mash and pellets. The basic ingredients of the feed include: rice, wheat, corn and sunflower seed.
The feed mill is one part of a large-scale project that will also include a rice processing plant with capacity of 150 tonnes, and a workshop for the production of pasta. The construction work on these projects has already been started, reported the Central Communications Service.