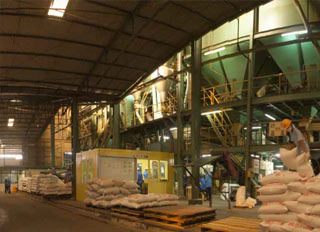 Despite a drop in profits PT Central Proteinaprima Tbk (CPRO) has continued with expansion plans including the buliding of a feed plant in Pekan Baru, Riau Province.
Saleh Yu, Director of Finance at PT Central Proteinaprima Tbk, said the new feed mill in Riau has a capacity of 40 thousand tons per year. "The fish feed plant in Pekan Baru, Riau will accommodate seven lines but consist of one line to start with, at a cost of Rp93 billion," he said in Jakarta yesterday.
In addition, the company operates a fish feed factory in Lampung. With a capacity of 50 thousand tons per year
Current realisable fish feed production til May 2014 has reached 6-7 thousand tons. Meanwhile, the production of fish feed in East Java and West Java has reached 94% and 102% of plant capacity or respectively 117,000/125,000 of West Java production capacity and 110,000/108,000 of East Java production capacity in 2013.
Saleh explained, revenues in 2013 increased by 12% from last year's revenue of Rp 6,836 billion. Nevertheless, Saleh said, these conditions may not reflect the company's profit generating dividends to shareholders. Meanwhile, Ebitda, or earnings before taxes or CPRO debt rose 46% in 2012 reached Rp270 billion to Rp394 billion in 2013.
For information, this year the company allocates capital expenditure amounted to Rp364 billion. Said Director of CPRO, Atanta Mahar Sembiring, the capex will be used for treatment of assets of Rp153 billion and Rp211 billion for expansion.
He said that the source of capital expenditure from internal cash and not lending. Specifically named, capital spending this year will be used for the treatment of the means of production assets of Rp129 billion. The remaining amount of Rp24 billion for non-production equipment facilities.
Meanwhile, capital expenditures will be used for business expansion include mining infrastructure projects amounting to Rp43 billion, nursery Rp17 billion and Rp58 billion food processing. Then, for fish feed factory in East Java CPRO budgeted for Rp93 billion.
In addition, the company is also targeting revenues of Rp8 trillion in 2014. This was explained, as due to increasing revenue targets in 2013. During which, the company's revenue in 2013, as much as Rp7.678 trillion.
In order to achieve revenue targets, it is ready to perform operational efficiency. Efficiency in the form of energy savings, cost efficiency, evaluation of human resources needs and fire up culture.
He said the company is pursuing research and development through the application of technology to improve productivity, the application of risk management. Meanwhile, the strategy to increase exports by increasing the production of high value products and implement ASC certification.