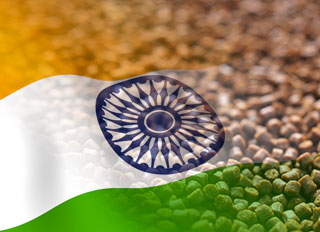 India's aquaculture feed demand is expected to reach seven million tonnes by 2017-18, according to a report released by Yes Bank at the Global Grain & Global Feed event held in Pune recently.
India's seafood production was recorded at nine million tonnes in 2012-13. The latest feed demand forecast is based on seafood production growing at the rate of 4% per year since 2012.
India's current aqua feed consumption is estimated to be about one million tonnes, assuming an average feed conversation ratio of 1.5 under industry standards.
Due to rapid changes in shrimp and fish farming, production capacities for modern feed has gradually increased to 2.88 million tonnes in 2013-14.
Specifically for shrimp, current feed demand for shrimp is about one million tonnes. Since the introduction of vannamei shrimp, shrimp production is growing at 16% annually, which will drive aqua feed production to 5-6% annually.
India has about 26 aqua feed mills throughout the country. Their production capacities are relatively low at 43.4% with a total production of 1.25 million tonnes. To meet the local demand for feed, India imports more than half of its requirements, so there is huge potential for boosting domestic production.
Out of the 26 feed mills, 13 or half of them can produce modern feed for the shrimp sector.
Total feed production for shrimp and fish stands at 572,000 tonnes and 684,000 tonnes respectively. Virtually all fish feed demand comes from freshwater fish.
The report also said that current market players and feed mill investors are searching for market diversification options to increase feed capacity utilisation.
Currently, Andhra Pradesh state holds the largest share in the domestic market, accounting for feed sales of nearly 60,000 tonnes per month, with other states trailing far behind at less than 5,000 tonnes per month.
India, along with the United States, China, Brazil and Spain, are the top aqua feed producers globally.