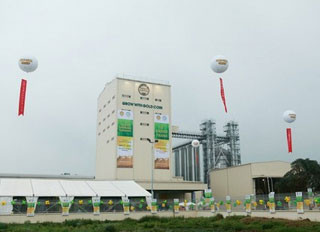 American Feeds Company, a wholly US invested company of Malaysian based privately owned agribusinesses Gold Coin Group, on the 7th of April inaugurated its second feed mill.
The feed mill located in Binh Giang District of Hai Duong province is the 2nd biggest of its kind in the North of Vietnam.
The feed mill which cost USD$12 million, has a production capacity of 300,000 tonnes of feed per annum.
Once operational, the feed mill will meet the demand for feed in the nothern and central areas of the country.
Speaking at the inauguration, CEO of Gold Coin Group, Ian David Glasson said that the feed mill utuilises state-of-the art technology, with the feed production machinery being imported from Switzerland, and the silos and bulk storage equipment imported from the USA.
Glasson said, "The objective of the company is to supply high quality food, contributing to increasing productivity and value, and ensuring food safety. The company will exchange experience on feeding skills and epidemic prevention with farmers."
The feed mill will benefit the region, creating jobs for locals, raising local farmers' incomes and will improve the competitiveness of livestock products.