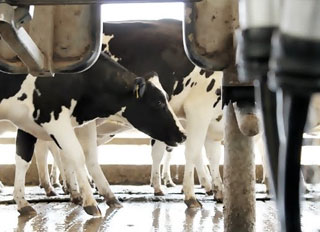 Saudi dairy company, Almarai Company, has announced its commitment to work progressively towards the importation of 100% of its agricultural feed requirements.
In its meeting, held on Monday April 7th 2014, the Board of Directors of Almarai restated its strategic commitment to the preservation of the Kingdoms water reserves. As such, the board has mandated the company's management to develop an operational plan that will gradually ensure that Almarai's total requirements of animal feed stock be imported from abroad.
The key products subject to this initiative will be alfalfa hay used by the company's cows herds. The sourcing of these products will be either from the company's controlled facilities in the USA or Argentina or purchased abroad from third parties who can meet Almarai's rigorous quality standards. This plan reaffirms the company and its Board of Directors commitment to a sustainable operational model, aiming at protecting the Kingdom's natural resources.
It is also a continuation of Almarai's announcement on Tadawul, dated March 1st 2011, regarding its commitment, now fully achieved, to import 100% since 2011 of alfalfa feed required for exported dairy products, extending it to all its domestic and export sales of dairy products.
At forthcoming meetings, the Board of Directors will monitor the progress of this strategic initiative that will put Almarai at the forefront of the Kingdoms environmental protection.