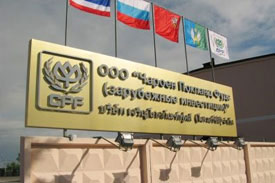 Charoen Pokphand Foods Pcl, Thailand's biggest animal feed and food producer, said profit may surge more than 30 percent this year, boosted by income from overseas businesses and food products.
Animal feed and agricultural businesses in countries including Russia, India and the Philippines will help boost revenue to as much as 190 billion baht ($6.4 billion) this year, Chief Executive Officer Adirek Sripratak said today. Revenue in 2011 will rise between 5 percent and 10 percent, he said.
"Our overseas businesses, especially in India, have potential to grow further," Adirek said. The company's food and shrimp businesses will also continue to improve, he said.
Charoen Pokphand, which already sells ready-made meals at Costco Wholesale Corp. stores in the U.S. and at J. Sainsbury Plc, the U.K.'s third-largest supermarket chain, plans to start shipping noodle and wonton products to Wal-Mart Stores Inc. in December, Adirek said. The products will initially be sold in 500 outlets operated by the world's biggest retailer.
The company plans to spend at least 6 billion baht next year, mostly on overseas expansion, Adirek said. That excludes the budget for potential investments in Bangladesh and Cambodia for its feed and farm business, he said.
The company hasn't been significantly affected by the appreciation of the baht because its product prices have increased and it's able to pass on some costs to trading partners, Adirek added.
Third-Quarter Profit
The baht has appreciated 12.5 percent in 2010, the best performance among Asia's most-traded currencies excluding the yen as overseas investors bought $2 billion more of Thai shares than they sold during the period to benefit from the fastest economic growth in 15 years.
The company today reported third-quarter profit advanced 3.9 percent, boosted by sales of meat and food products and lower tax expenses. Net income was 4.28 billion baht ($145 million), or 0.64 baht per share, in the three months ended September, from 4.12 billion baht, or 0.61 baht, in the same period a year earlier, the company said today. That compared with a 4.14 billion baht median estimate by six analysts surveyed by Bloomberg.
Total revenue rose 14 percent to 51.1 billion baht in the third quarter, while expenses surged 16 percent to 46.1 billion baht. Tax expenses fell to 777 million baht, from 1 billion baht.
Income from its units gained 7.3 percent to 606.9 million baht, Charoen Pokphand said.