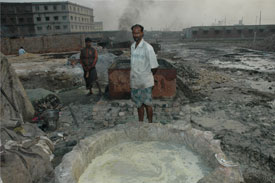 Dhaka, Bangladesh -- Speakers at a roundtable discussion meeting in the city on Thursday called for stopping the use of harmful and poisonous tannery waste in the preparation of poultry feed.
Save the Environment Movement organised the discussion on 'Preparation of Poultry Feed with Poisonous Tannery Waste:
Impacts on Public Health' at its office.
Presided over by Save the Environment President Abu Naser Khan, the meeting was addressed by Dhaka University Chemistry Professor Abu Zafar Mahmud, researcher Dr Hossain Shahriar, former BCSIR (science laboratory) Director Dr Farmujul Haq, Sagiruzzaman Sagir, Prof Phulay Hossain and Ibnul Sayeed Rana, said a press release.
The speakers said more than 250 poisonous chemicals, including cadmium, chromium, arsenic and zinc are used in processing leather.
The chemicals in the waste leather can cause lung cancer and many other complicated and fatal diseases, they said and called for immediate halt to the use of tannery waste in the preparation of poultry feed.