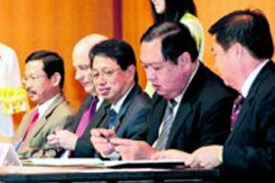 Brunei - At the beginning of this year, three local farms entered into a joint venture with a Malaysian company to build a $7-million feedmill, the first of its kind in the Sultanate.
Scheduled to begin production by the first quarter of 2012, the feedmill will have capacity of 130,000 metric tones per year for poultry feed.
The joint venture was signed among Gold Coin Malaysia Group and Brunei's QAF Farms, Hua Ho Agriculture Farm and Soon Lee Holdings, with the aim of reducing production costs for poultry farmers and to allow them to be more competitive in the global arena.
One of the issues hindering Brunei's potential to export poultry has always been that producers are unable to compete with the price of global exporters.
With Brunei producers faced with higher cost of production than global exporters, as well as not having enough volume to gain a secure market, what is being done with relation to helping the sector?
Of the total consumption of chicken in Brunei, domestic production accounted for only 32 per cent in 1992. This soared to 61 per cent in 1997 and 76 per cent in 1998, according to official government statistics. In 2006, local poultry farmers grabbed 95.6 per cent of the domestic market for chicken products.
Local chicken farmers appreciate the government's efforts to make the export ambition a reality, but there remains a number of challenges to overcome.
The initiative however could be a debatable solution, said an industry expert, who wished to remain anonymous.
"It really depends on the cost of the raw materials, and how much it is at the time. The feedmill is supposed to be finished in 2012, but if at that time, corn prices go down, then of course we will save, but if they don't then we cannot," he said. He added it was unclear how much the feedmill will aid in lowering the cost of production for poultry farmers.
Should the farmers be able to save on the cost of poultry feed, the next step to move into the export industry, would be to first expand their operations to accommodate overseas demand. "Poultry farmers would need to expand their operations, but by doing that each farmer would need a big investment, which is one of the constraints in Brunei, because if we can't secure a market yet, then no one will start to expand," he said.
The price of feed went up by 40 per cent from $25 per 50kg in January 2007 to nearly $40 per 50kg in 2008.