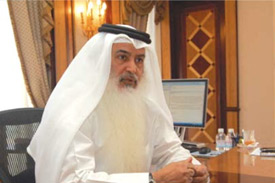 Qatar - Hassad Food, owned by the Qatar Sovereign Wealth Fund, has completed the implementation of its strategic plan's first phase for the production of livestock, a senior official has said.
Speaking at a ceremony on Sunday to honour its employees, Hassad Food chairman Nasser Mohamed al-Hajri said that for the major project in Australia the company has hired scientists and experts in gene transfer to ensure the production of the type of livestock required in Qatar.
"We are talking about the Syrian sheep, and this great project is taking place in Australia due to the availability of vast land and pastures, at a low cost".
Al-Hajri explained that Hassad Food was implementing other projects in the production of the most consumed products in Qatar, such as grain, wheat, rice, sugar and white and red meat, in Argentina, Brazil, Uruguay, Turkey, Eastern Europe and Iran.
"We are also implementing animals feed projects of barley production", he said, adding: "This project must be outside Qatar because of the great need of irrigation water and vast pastures."
The official pointed out that the one of the company's main plans was production of wheat.
"Our project in Australia will meet two main sections of our strategic plan's first phase, the production of sheep and wheat", he stated.
Al-Hajri observed that Hassad Food's other projects in Brazil and Uruguay featured sugar, soy, poultry, feed corn and soy for animals and poultry.
"Some other projects will soon be launched in Sudan and Iran to produce green feed", he added.He further said that Hassad Food was looking to produce rice in Pakistan, Philippines, India, Thailand, Cambodia and Vietnam.
"The first phase of investing in rice production will most probably begin in Pakistan and India through current producers," he said, adding: "We will try to provide all types of rice consumed in Qatar".
Al-Hajri also referred to the major poultry and flower production projects, which are underway in Qatar.
"We also anticipate other projects either individually or in partnership with the Qatari private sector".
He maintained that Hassad Food would implement another major project in co-operation with the Ministry of Environment and Qatar for Development, which would provide financial and technical support to the domestic farms and facilitate the producers' way into the local market.