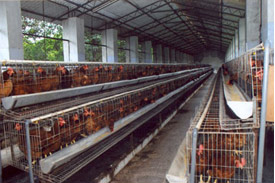 Kerala, India - Revenue Minister K P Rajendran on Thursday inaugurated the hitech poultry layer breeding farm and hatchery set up by the Kerala State Poultry Development Corporation (KSPDC) at Kuzhoor in the district.
Speaking on the occasion, the minister said that the Corporation had been successful in increasing poultry egg and chicken meat production in the state significantly in the past three years by offering layer fowls to households under various schemes.
He said that those programmes had not only helped the BPL families to add to their income but had also worked as an important instrument for the empowerment of women.
Presiding over the function, A K Chandran MLA said that the land for the farm had been acquired by the then Chief Minister K Karunakaran with a view to establishing a poultry farm and poultry feed production unit.
He said that for setting up the feed unit, a concrete structure had been constructed. However, the project was given up to certain reasons later. The next important project of the farm authorities is to complete the unfinished structure and set up a feed unit for which a Rs 70-crore project proposal has been submitted to the Central Government and its approval is awaited. In his report, the Managing Director of KSPDC Dr V Sunil Kumar said that the farm had 3,500 (3000 female and 500 male) parent stock to produce 7.5 lakh hatching eggs every year. He said that from this hatching eggs, 3 lakh layer fowls could be produced to generate 6 crore eggs costing Rs 20 crore annually.
KSPDC chairperson Kamala Sadanandan welcomed the gathering. Block panchayat president K V Vasantakumar, district panchayat member A R Radhakrishnan and others spoke. Farm manager T V Sasidharan proposed a vote of thanks.