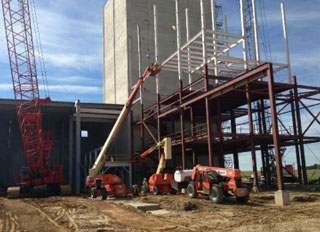 US feed and grain construction company Younglove LLC have named Ken DuBois as company president and Loren Field as executive vice president.
With the recent retirement of former president Michael Gunscht, DuBois will fills the position at the Sioux City based, 118-year-old construction company which specialises in the design, construction, and project management of feed, grain and food production plants.
DuBois has worked for Younglove for 16 years now as a project manager, and most recently as vice president of the company.
The new president holds a degree in civil engineering, and his two most recent projects have been overseeing the construction of the grain terminal in Vancouver, Wash. for United Grain and a the construction of a grain elevator for Louis Dreyfus in Port Allen, La.
The new vice president of the company, Loren Field, has worked at Younglove for 32 years now. Holding the position of project manager for industrial and feed and grain facilities, Mr. Field has been instrumental in helping Younglove secure a leadership position, in the designing and building of numerous feed mills for the poultry industry.
His two most recent projects include the construction of a rice facility for the Producers Rice Mill in Stuttgart, Ark., and the construction of a swine feed mill for Cargill in Hedrick, Iowa.