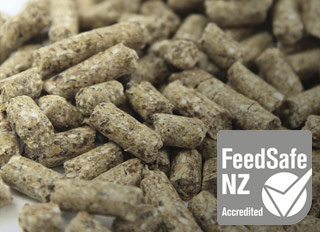 A new accreditation has been made available to New Zealand animal feed manufacturers, to obtain accreditation for the quality of their production.
The new accreditation, FeedSafeNZ is available to New Zealand Feed Manufacturers Association (NZFMA) members who pass independent audit standards as to quality of feed production. The FeedSafeNZ accreditation has two main aims: to provide safe feed for animals and thereby to protect the safety of human food.
Michael Brooks, NZFMA Executive Director says, "High quality feed is vital not only for the health and wellbeing of animals but also for humans, so it's imperative that feed is manufactured to strict guidelines and is packed and stored correctly to ensure its quality is maintained.
"New Zealand has an enviable reputation when it comes to locally manufactured feed, and with the FeedSafeNZ accreditation farmers can be even more reassured that the feed they are purchasing is manufactured to the highest possible standard."
FeedSafeNZ audits are carried out annually by AsureQuality, a company that provides food safety and biosecurity services to the food and primary production sectors worldwide. Manufacturers undergo a stringent testing regime that involves a thorough on-site audit of their plant and storage facilities and operations. Only FeedSafeNZ-accredited sites are permitted to use the FeedSafeNZ logo (see above) on their packaging and other materials.
Michael Brooks says that with the growing emphasis and awareness of food safety among consumers, the introduction of the FeedSafeNZ accreditation is timely.
"The FeedSafeNZ accreditation will help maintain the high quality of feed sold to farmers and eliminate product that can lead to poor animal growth and production, as well as reducing cross-contamination of ingredients from storage or processing," he says.
The NZFMA is encouraging its members to achieve the FeedSafeNZ accreditation, which in time will become compulsory for NZFMA members. Currently 14 feed manufacturing sites have achieved accreditation, including Advanced Feed Methven, Farmlands Nutrition Winton, Farmlands Nutrition Rolleston, George Weston Foods Rangiora, Inghams Enterprises Hamilton, Inghams Enterprises Mount Maunganui, Mainfeeds Levin, Mainfeeds Wiri, Mainfeeds Waikouaiti, Takanini Feeds Ltd, Tegel Auckland, Tegel Christchurch, Sgt Dan Stockfood Ltd, Gore, and Seales Winslow Whanganui. More are expected to come on board over the coming months.