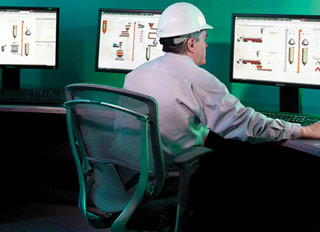 Canadian company Matiss has introduced a brand new series of Matiss IS inline continuous flow scales designed for use in grain processing facilities.
Matiss IS continuous flow scales offer enhanced precision (up to 0.1%) for weighing ingredients at flow speeds of up to 120 tonnes per hour. Their ultra compact design makes the scales easy to install in strategic areas of existing or new plants. These automated measuring instruments capture data continuously and can communicate with the plant's management system.
The Matiss IS series consists of three models—the IS 25 for flows of 8 to 20 tonnes per hour, the IS 100 for flows of 40 to 60 tonnes per hour, and the IS 215 for flows of 80 to 120 tonnes per hour.
Matiss technicians designed and manufactured this product line in response to the needs of our customers in the agricultural sector seeking more sophisticated measuring instruments. The new scales will improve productivity at plants all across Canada.
Matiss equipment division, the designer and manufacturer of the new continuous flow scales, has been developing automated processing equipment for manufacturers throughout North America since 1998.