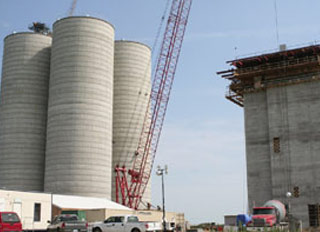 A major project for New Vision Coop's major project is right on schedule.
The $12.6 million project that will result in a state of the art feed mill and grain storage facility was in the incubation stage for many years.
New Vision Coop has 16 locations with feed mills. The newest mill was built in the 1970s. Age, government regulations, inefficiencies, growth in its livestock business and new technology, kept the idea percolating.Land was purchased west of Magnolia in 2007 for the new facility.
"We wanted something close to home in a community that wanted us," said Frank McDowell, New Vision Co-op general manager. "There also had to be access to good roads, close to a good source of corn and to livestock producers. We got all that here at Magnolia."
Headquartered in Brewster, NVC sells agronomy, feed and buys grain from 3,000 farmer members in Cottonwood, Jackson, Murray, Nobles and Rock counties in Minnesota and Lyon, Osceola, and Dickinson counties in Iowa.
The four silos can store 800,000 bushels of grain. The finishing touches are being made to the truck scale and scale office. It will be one more market for grain producers. Time is always a factor at harvest and the grain complex is designed for quick unloading — it has capacity to unload 18,000 bushels an hour or 300 bushels per minute. New Vision is expecting it to be completed for the 2012 harvest.
The feed mill is designed for a daily grind of 1,200 tons in a 10-hour shift. At full speed it can grind 120 tons and hour. There is room for 1,000 tons of storage, which will be divided equally for ingredients and finished feed. It is expected to be fully operational by June 2013.
New Vision Co-op currently has 150 employees. Fifteen new employees are expected to be added as work is completed.
"It has been pretty satisfying to see this materialize," said McDowell. "We are proud to be a small link in the feed to food chain."
Part of the project was funded through USDA Rural Development Loan and Grant program, which provides zero-interest loans to local utilities. The funds were awarded through the Lismore Cooperative Telephone, which reloaned $740,000 to New Vision Co-op.
Farm Service Agency state director Colleen Landkamer said the community will benefit from this money and business.
"It will bring jobs resulting in strong, resilient communities. As the money is paid back, it will be reinvested in more good projects.
A USDA $300,000 grant was also awarded to Rock County. The funds will help finance the replacement of three road graders. Lismore Telephone company contributed $60,000 to the grant.
"The REDLG program is a perfect fit for the goals established by our telephone company," said Mark Loosbrock. "It certainly is good to offer our youth an opportunity to remain in our communities with good jobs and good benefits."