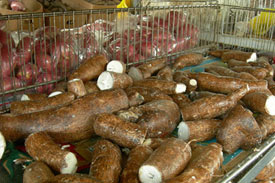 Jamaica -- The Jamaican Government is exploring alternative feedstock as part of a programme aimed at combating volatile food prices, says Agriculture Minister Dr Christopher Tufton.
Tufton made the revelation as Jamaicans brace for higher food prices due to soaring cost of grains on the international market which is expected to impact the cost of feeds used in the production of diary, poultry, meats and eggs.
"Where we have to go is, to take a look at alternative feedstock -- cassava, for example, that can be pelletised to make poultry feed and pig feed; different types of grass that can be used for beef or production cattle rearing and small remnants rearing," Tufton told the Business Observer yesterday.
"That's where we have to focus our attention in order to say, instead of requiring 'x' amount of grain, we can cut back and substitute it with other things," he explained.
Corn and soybean prices shot up dramatically last week to 30-month highs against the background of a confluence of shocks that have disruptied world supplies.
According to reports from the United States Department of Agriculture (USDA), one of the contributing factors was the reduction in crop harvests last year in the United States - the world's largest producer of corn, whose exports make up the majority of global trade in that grain.
The situation has been exacerbated by dry weather conditions in Argentina and floods in both Australia and Brazil, all of which grow grains such as corn, wheat and soybeans for the world market.
In addition, the price of oil has reached almost US$100 per barrel, which has significantly impacted the cost of transportation and has contributed to driving up the grains complex for corn, wheat and soybeans over the past few weeks. Global reports are that the soaring prices of grains will continue to push up the cost of feed, diary, poultry, milk and meat worldwide.
Tufton ruled out directly replacing the imported grains with local produce, noting that Jamaica does not possess the critical mass needed to grow corn and soybean.
"The mass acreages that would be required is just not available to grow for commercial use - further processing for feedstock for example," stated Tufton, adding that "We'd have to grow corn on (land) the size of Jamaica to compete with those countries that grow the product...The challenge now becomes therefore whether we need to depend on corn so much for the basis of our feedstock."
Tufton emphasisd that the latest development which threatens world food prices underscores the need for Jamaicans to embrace a "...more comprehensive food security programme where we can substitue on a wider scale imported food for local alternatives -- some direct replacement and (alternatives) in some instances."
The agriculture minister said that Government has been doing alot over the last couple of years in this regards and has seen declines in the food import bill in terms of volumes. He noted that the administration in 2011 will focus on a number of crop areas where the country can have direct replacements both in terms of production and in terms of storage or value-added promotion.
"For instance, we have a rice programme that we are very actively engaged in with a target of replacing 30 per cent of what we currently consume - we consume nearly 100,000 tonnes. That project is undergoing and we have secured along the value chain a number of the infrastructure, equipment, the rice growing lands, we have formed a rice growers association, we have a number of investors/farmers, we have the input suppliers and also the processors et al," said Tufton.
Tufton said that rice is currently being grown on 500 to 600 acres of land, with the goal being 12,000 to 15,000 acres.
He added that similar programmes are being employed with root crops, such as irish potato and onion.