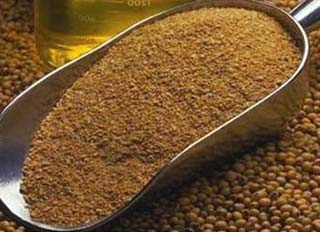 The U.S. Department of Agriculture (USDA) is to provide a grant to the Indiana Soybean Allaince, with funds to be used to complete a feed mill and fish food study.
The study will assess the feasibility of a feed mill turning soybeans into fish feed, and whether a project of this kind could be profitable.
Aquaculture Director of Indiana Soybean Alliance Aquaculture, Shelia Lingle explained that soybeans were a great source of protein and were already grown in the state of Indiana.

Lingle said that "the next step is seeing if we could have enough volume of fish to justify a feed mill because right now, most of our producers are having to ship their fish feeds in from Utah or Pennsylvania or down in Louisiana because that's where the aquaculture feed mills currently are."
Lingle said that it makes more financial sense to produce the fish feed locally, rather than shipping off soybean to other states to be produced into fish feed, then shipped back.
Local farmers have supported the idea, saying locally produced feed would enable them to expand their businesses quicker.
The study will have $15,000 funds allocated to it by the Indiana Soybean Alliance, with the USDA grant of $15,000 matching it. These funds will be used to locate a feed mill in the state to dedicate to producing soy-based fish feed.