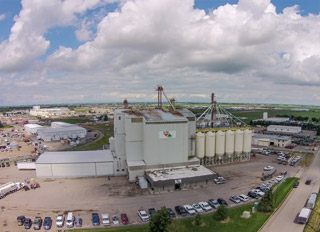 It's been over 2 years since Hi-Pro Feeds LP (Hi-Pro) acquired the assets of Viterra's North American feed business. Today, after substantial investment, improvement and growth, the company is taking another step towards building a world class animal nutrition company. Hi-Pro is pleased to announce the acquisition of the New-Life Mills feed plant in Lethbridge, Alberta. New-Life Mills is the feed division of Canadian-owned Parrish & Hembecker, Limited.
"We embarked on our journey as Hi-Pro Feeds in April, 2012, and have been working hard to be a leading manufacturer and distributor of high-performance feed in North America. Hi-Pro has been focused on implementing state-of-the-art nutrient delivery systems, manufacturing capabilities, and customer support to improve our offer to customers," says Daren Kennett, SVP/Founder of Hi-Pro Feeds. "With better systems and processes in place, we are now ready to take the next step in our growth strategy."
Southern Alberta is essential to Canadian livestock production. Local farmers are leading the way in producing high quality meat and dairy products for consumers. "We are dedicated to ensuring that livestock producers in the region receive the highest quality animal nutrition and expertise in the market," states Kennett. "Over $4 million has been invested into the Hi-Pro Lethbridge facility in the past three years allowing us to provide consistent, high-quality products for all species of animals in a cost-effective, efficient manner."
The New-Life feed mill in Lethbridge will be permanently closed on December 1, 2014. Going forward, all feed will be transferred and manufactured at Hi-Pro. "We are dedicated to making this a seamless transition for New-Life's customers," says Larry Penner, Regional Sales Manager for Hi-Pro Feeds in Southern Alberta.
Daren Kennett also comments that, "Doug Holt, Sherry Zarowny, and Jassen Jackman (former employees at New-Life) will become members of the Hi-Pro team. They have built a strong reputation and client base in the area focusing on delivering good service, and expertise to livestock and poultry producers."
"Doug, Sherry and I are extremely excited to be joining Hi-Pro in southern Alberta," says Jassen Jackman, General Manager of the former New-Life Mills facility in Lethbridge. "We are dedicated to helping our customers achieve their goals together as a team, and look forward to utilising the resources that the Hi-Pro network has to offer."