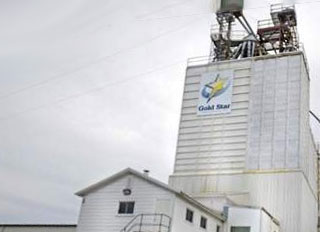 J.D. Heiskell & Company (JDHCo) and Kent Nutrition Group (KNG) finalized an agreement for JDHCo to purchase KNG's ownership in their joint venture, Gold Star Feed and Grain, LLC.
JDHCo will become sole owner and operator of Gold Star Feed and Grain, LLC effective March 17, 2014. Gold Star Feed and Grain, LLC currently operates prior KNG mills located in Adams Center, NY; Augusta, ME; and Sangerfield, NY. This change should not impact customers of Gold Star Feed and Grain.
The Adams Center plant manufactures meals, pellets and textured treats for dairy operations. Mr. Dugan said the plant will begin to market and sell more grain products that aren't produced at the plant, including wet gluten feed for dairy cows.
"Gold Star Feed and Grain, LLC employees are excited about J. D. Heiskell & Co. further committing to the dairy industry in the Northeast by completing the purchase of our company," said Andy Dugan, General Manager for Gold Star. "We will continue to adapt the way we do business around our customer's evolving needs here in the Northeast; we know that this focus is key as we strive for continued success here."
"KNG and JDHCo have worked well together since we formed the joint venture in the fall of 2012. Together we have worked diligently to serve Northeast dairy farmers and expand our offerings," said Ryan Pellett, CEO for J. D. Heiskell & Co. "Moving to full ownership in Gold Star Grain and Feed should be seamless to customers. KNG and JDHCo remain valued business colleagues in the market".
KNG will continue to own and operate mills at Arcade, NY, Richford, VT, Bow, NH, and Hagerstown, MD, and will continue to serve dairy customers and Blue Seal dealers out of these mills. KNG will also continue to own and operate retail stores under the Blue Seal brand, throughout the Northeast.
"Our strategy has been and will continue to be on serving our customers and their ever changing needs in the northeastern United States and the greater Midwest regions", said John Thorpe, President, Kent Nutrition Group. "This change does not alter our dedication to the region or to our valued customers, it reinforces our commitment to remain focused on what we do best, serving customers. "
J.D. Heiskell & Co.is a privately-held, professionally managed grain, commodity trading, and livestock feed manufacturing enterprise with across the United States. Founded in 1886, the company trades grains and commodities throughout the US and into Mexico, China and the Pacific Rim countries.
Kent Nutrition Group's Feed Division operates throughout the Midwest, Mid-Atlantic, New York, and northeastern United States under the Kent and Blue Seal master brands. Kent's Pet Division supports the World's Best Cat Litter, Native Performance Dog Food, and By Nature Pet Food brands.