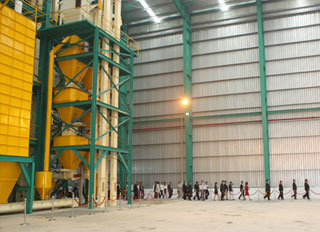 After more than year of construction, on the 18th March, GreenFeed Vietnam held a ceremony to inaugurate the newest feed built in Dong Van II Industrial Zone, Duy Tien district, Ha Nam province. Attending the inauguration ceremony were Mr. Pham Loi - Deputy Chairman of Ha Nam Province; Mr. Tran Xuan Duong - Head of Industrial Zones Authority Ha Nam Province; Mr. Chu Dinh District - Head of animal feed - Livestock Department MARD, along with all the leaders GreenFeed Vietnam.
The Ha Nam factory was built on an area of 5 hectares, with a production capacity of 400,000 tonnes of animal feed, poultry and seafood per year. This is broken down into 300,000 tonnes of animal feed and 100,000 tonnes of GSGC aquatic food. The plant was built with a total investment of over USD37 million dollars.
Speaking at the inauguration, Mr. Ly Anh Dung - Chairman of Vietnam GreenFeed spoke the following, "With the inauguration of the new plant today GreenFeed Ha Nam proves that GreenFeed is following the roadmap for development previously set out. With the construction of a new factory in a province that is the result of research on human beings, on the development and support enterprises to invest in local government ... ". At the same time he also sent greetings to all officers - employees under Ha Nam factory, saying that he had confidence that the staff & employees would contribute not just to the Ha Nam factory, but also to a future where the branch of the business activities there will be among the most effective in the GreenFeed Group.