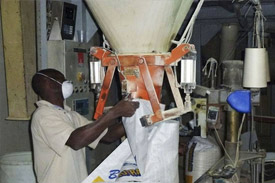 Two of Jamicas largest poultry producers, Jamaica Broilers and Caribbean Broilers, have agreed with the Government's decision to rollback General Consumption Tax (GCT) imposed on feedstuffs and animal feed. The companies claimed an added tax on feeds, would have had a negative impact on the local agricultural sector.
The companies and others in the industry are still however calculating how additional costs from an increase in the amount of GCT on electricity, affects their operations and what costs will be needed to be passed on to the consumer through higher poultry prices.
The imposition of GCT on feedstuffs and animal feed was annouced by Dr Peter Phillips, Finance and Planning Minister, during his 2012-2013 budget announcement, on May 24. This GCT was due to come into effective on June 1.
However, on Wednesday in closing the budget debate, Dr. Phillips replying to public criticisms of the Government's imposition or increase in some taxes, rescinded the GCT on feedstuffs and animal feeds, effective June 15.
CEO of Jamaica Producers Group, Jeffery Hall said regarding the rollback "The government has to balance the fiscal requirements of the (agricultural) industry and consumers" and, therefore, "all things considered, we think the position now taken is, on balance, the best,"
Operators of the Best Dressed Feed Mill located in St Catherine, Jamaica Broilers, had implemented the addition GCT for feedstuffs and feed measure on animal feed, as per the previous Government requirements.
Vice president for finance and energy at Jamaica Broilers, Parsard said "we are looking at what we should be doing now", in regards to whether they should stop charging the tax immediately or wait until June 15.
Parsard commented that the company also embraced the move to rescind the tax on animal feed, stating that ithe tax would have had an "extremely negative" effect on Jamaica's local farmers, not only those working in the poultry industry, but also those working with other livestock.