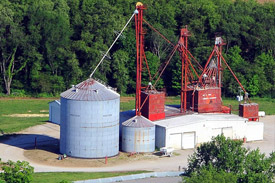 A large reduction in the amount of users has forced Central Ohio Farmers Cooperative (COFC) to wind-up its feed milling operations in Knox County, a co-op official announced.
Tom Bostic, COFC manager, said that the Marion-based co-op had considered closing down the Kinney Road site for the last 2 to 5 years, due to too few people wanting the service that supported the mill.
Clients stored their animal feed at the feed mill, which milled and mixed it for them. Even though COFC closed the feed mill on the 15th of May, it will keep the approximately 4-acre site to store liquid along with cleaning and treating field seeds.
"The only thing we're really not going to do is grind feed," Bostic said.
The closure is set to free up spare parts for COFC's other grinding mills, and other production facilities including COFC's Mount Gilead site which will most likely pick up a couple of the formers clients.
Bostic told the feed plant had been grinding 10-15 batches, each around 1,000 lbs, a week.
"We use very large electric motors," he said, stating "It wasn't cost effective."
The co-op has 3 other feed mills, located in Waldo, Monnett and Mount Gilead.
Bostic said that the feed milling operations produce only about 10 percent of the co-op sales.
"It's not a big portion of what we do, but it's important," he stated.