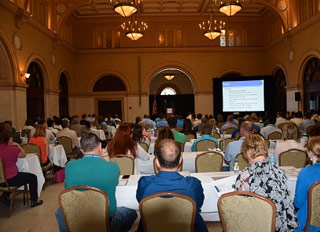 The American Feed Industry Association's longest standing event, Feed Industry Institute, attracted a record-setting 170 attendees June 16-19, in Minneapolis, Minn., up from 150 attendees in 2012.
The conference, hosted by AFIA's Purchasing and Ingredient Suppliers Committee every two years, provides an ideal forum for those new to the industry to learn about feed and ingredients first hand from highly qualified industry experts. This year's theme was "Your Path to Understanding the Feed Industry."
FII speakers, who volunteer their time to teach conference attendees on various entry-level topics, included: Brent Babyak, Prince Agri Products, Inc.; Rick Bonander, Adisseo USA Inc.; Dr. Tom Earleywine, Land O'Lakes Animal Milk Products; Dr. Lance Forster, Jr., ADM Processing; Tom Geary, Westway Feed Products LLC; Dr. Matt Gibson, LifeLine Foods, Inc.; Doug Grennan, The Scoular Company; Dr. Kevin Halpin, International Ingredient Corporation; Kevin Larson, Diamond V Mills, Inc.; Dr. Brad Lawrence, Novus International, Inc.; Tim Lease, WL Port-Land Systems; and Dr. Omarh Mendoza, The Maschhoffs.
Dr. Keith Mizwicki, SEM Minerals; Dr. Steve Moreland, Nutriad, Inc.; Sarah Muirhead, Feedstuffs; Dr. Luis Ochoa, Kemin Animal Nutrition and Health; Todd Owens, ILC Resources; Dr. Chad Risley, Berg+Schmidt America, LLC; Dr. Gary Sides, Zoetis; Dr. Mamduh Sifri, ADM Alliance Nutrition, Inc.; Dr. Charles Starkey, American Proteins, Inc.; Dr. John Thomson, Evonik Industries; Dr. Henry Turlington, American Feed Industry Association; Roger Watchorn, Cargill; and Leah Wilkinson, American Feed Industry Association.
Speakers, who approached the podium in a classroom-like setting, educated FII students on topics spanning from the physiology and nutrition of mono-gastric and ruminant animals to water soluble and fat soluble vitamins to the importance of quality sales and customer service.
A few speakers discussed human food decisions in their presentations. "Ninety-five percent of consumers make their food decisions based on taste, cost and nutrition, according to research conducted by Elanco," stated Muirhead in her presentation on "Connecting the Disconnect." Muirhead added consumers are influenced by online content more than ever-up 28 percent to 42 percent from 2010 to 2011-and those in agriculture must engage in conversations to convey accurate information.
Some speakers, like Earleywine, linked the connection between animal nutrition and human nutrition. "The No. 1 dairy export is whey," stated Earleywine. Whey is used in specialty feeds to provide a source of flavourful, high quality protein that is easily digestibly for cows. Humans consume whey in numerous protein-based products such as shakes, bars
Other speakers stuck to scientific facts. "The world would be a very different place without protein; and in fact, it would only be a rock, the third rock from the sun," stated Thomson in his discussion on proteins and amino acids. "Protein is essential to life."
Outside of the educational sessions, FII attendees partook in a welcome reception, getting to know others through a not-so-old-fashioned game of Icebreaker Bingo. On Wednesday, June 18, attendees traveled to Midway Field, home of the St. Paul Saints, for a night of baseball and socialising.
"We could not have asked for a better turn out, better speakers and more generous sponsors than all that partook in this year's Feed Industry Institute," said Veronica Rovelli, AFIA director of meetings and events. "The engagement from the participants and commitment from the speakers is a perfect example of what this industry is all about."