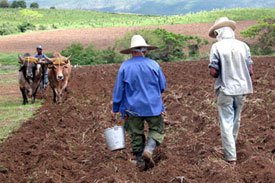 Cuba - The first multipurpose plant to produce animal feed for farms in the eastern Cuban province of Las Tunas has begun operating in the southern municipality of Amancio.
The new plant can manufacture various types of feed mixtures for various species of animals, and will enable Cuba to save some of the expensive imports made in this field.
Information published by Tiempo21 digital webpage of the provincial Radio Victoria station, states that the plant was built at a cost of about $ 89,000, with the use of equipment, parts and other items recovered.
The facility uses as basic raw material the residuals of sugar processing and of alcohol distillation in the Amancio Rodriguez complex, substances that have a high energy value and serve as a substratum for, through various formulations, obtaining high-quality food products for animals.
This production facility has the capacity to manufacture daily, from the next harvest, 50 tons of seven kinds of foods, processed with honey, urea, saccharovinaza, yeast saccharomyces, bagasse (stalk residue from sugarcane) and other components rich in protein and fiber.
The making of nutritional blocks for different species, mainly pigs and cattle is also expected, said engineer Lazaro Guerrero, head of derivatives of the Sugar Business Group in the province of Las Tunas.
Animal food production is of great importance to Cuba, engaged in increasing the supply of protein to the population by raising cattle and sheep from local resources, which will also help to substitute imports that are traded at a high price in the international market.