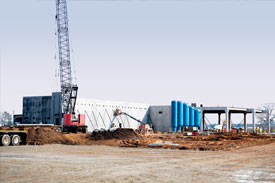 Sanderson Farms Inc., the fourth-largest chicken integrator in the U.S., announced today that it plans to locate a potential new poultry complex near Goldsboro, North Carolina. The construction of the new complex is subject to various contingencies, including obtaining satisfactory state and local incentives, locating suitable property, obtaining necessary permits and the approval of the Company's lenders of an amendment to its revolving credit agreement permitting, among other things, the capital expenditures for the Goldsboro complex.
Sanderson Farms expects to invest approximately $94.0 million in the potential new big bird deboning complex. The project, if completed, will consist of an expansion of the feed mill for the Company's Kinston, North Carolina, plant, a hatchery, a processing plant with capacity to process 1.25 million chickens per week and a waste water treatment facility. At full capacity, the plant is expected to employ approximately 1,100 people, require approximately 150 contract growers, and be equipped to process and sell 8.9 million pounds of dressed poultry per week. If all contingencies are met, the Company expects to begin construction of the complex in the second quarter of fiscal 2011 and expects to begin operations in the third quarter of fiscal 2012.
Sanderson also said today it has commenced a registered public offering of 2 million shares of common stock, proceeds from which would be used to finance construction of the Goldsboro project and other construction.