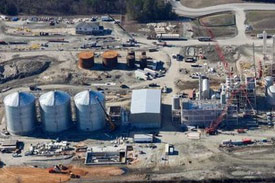 Osage Bio Energy, which is building the nation's first barley-to-ethanol plant in Hopewell, has signed a contract to sell a byproduct as an animal feed ingredient.
Henrico County-based Osage said yesterday that it will supply barley protein meal to Land O'Lakes Purina Feed, a Minnesota-based producer of animal feeds.
Osage's Appomattox Bio Energy plant in Hopewell is scheduled to start production in late spring. Construction on the plant is progressing, and about 45 of the plant's expected 51 employees already have started work or are in training, said Heather Scott, the company's marketing coordinator.
At full production capacity, the plant will use 30 million bushels of barley a year to produce about 65 million gallons of ethanol. The ethanol will be distributed in local markets and used as a blend in gasoline fuel.
Barley protein meal is produced from the grain left over after the fermentation of ethanol. The plant could produce up to 250,000 tons of barley protein meal a year.
"It's a product that even local farmers are interested in," Scott said. "It is something that we could sell directly to farmers, but, because of the volume, it makes more sense to go through someone like Land O' Lakes because that is their business. There is both a domestic market and a global market for this product."
Osage expects market demand for the barley protein meal because it has a low-fat profile and high protein and lysine content compared with other grain-based feeds. It also is derived from barley that has not been genetically modified, Osage said.
Osage is working with Perdue Agribusiness to source its barley and plans to buy the crop from within a 100-mile radius, but it may take several years for barley production to ramp up to the needed amounts within that radius. Perdue already has contracted with about 175 farmers to grow barley, most of them in Virginia, Scott said.