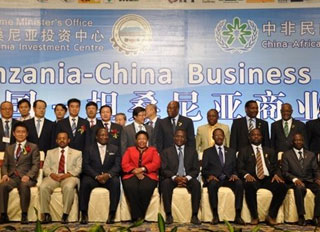 A Tanzania-China Business Forum was held today at the Dong Fang Hotel in Guangzhou, China. The Forum was organised in partnership between the Tanzania Investment Centre (TIC) and the China Africa Business Council-CABC and was attended by participants from China and Tanzania.
Tanzania Investment Centre Executive Director Julieth Kairuki said that a total of 46 companies and institutions investing and trading in Tanzania were participating in the forum and the CABC had 44 companies registered to take part in the forum.
President of Chinese feed machinery manufacturers Muyang, Fan Tianming, was invited to participate in this event. Tanzanian Prime Minister, Mizengo Pinda, met with the President of Muyang, Fan Tianming, on the afternoon of the 24th as the two sides held friendly talks.
Fan Tianming gave an introduction of the African market which is a key market and area of high growth for the company.
China and Tanzania, share a good relationship, and next year will mark the 50th anniversary of establishment of diplomatic relations with Tanzania. China and Tanzania are currently in frequent contact, and look to deepen exchanges and business cooperation in this important period.
In recent years, Tanzania's agriculture, infrastructure has seen a growing inflow of foreign capital into the country, and there is forecast to be steady growth in the coming years.
The animal feeds industry in Tanzania dates back to 1965 when the Unga Feeds Company of Kenya installed a small feed mill in Dar es Salaam specifically to supply feeds to Dar es Salaam and Kilimanjaro regions.
In 1982 the Tanzania Animal Feed Company (TAFCO) as a parastatal was formed whose mandate was to produce animal feeds for poultry, cattle and pigs. However the company faced several operational problems including lack of funds to replace feed production machinery which resulted into the company being unbearable and declared insolvent and place under receivership in 1989.
In Tanzania the feedstuffs account for about 60% of production costs of farm animals.
There are more than 60 Animal Feed Industries in the country with varying capacities. Most of these Animal Feed Industries are located in Dar es Salaam, Coast, Arusha and Mwanza regions.
Most livestock producers make use of home compounded feeds because of the perceived high cost of commercial feeds. These home compounded feeds are not well balanced, for reasons that farmers are not able to get all the necessary ingredients and are limited in capacity of observing the recommended levels of feed requirements.
The most commonly ingredients used in both homemade and feed companies are grains and cereals, cereal by products, oilseed and oilseed by products, animal and fish by products mainly purchased from upcountry, while other ingredients such as concentrates are mostly imported from Mauritius Kenya and Holland.
In advocating for quality of the products produced the Ministry of Livestock Development has a station at Animal Disease Research Institute with the responsibility of the feed analysis.
Production of compounded feedstuffs in the country is constrained by low quality of feedstuffs, seasonal availability of raw material, inadequate credit facilities, inadequate raw materials, inadequate knowledge on feed formulation, high cost of production and weak stakeholder associations. Presently one critical constraint facing the use of compounded feedstuffs is the competition between livestock and human beings for ingredients which are basically a staple food for the majority of Tanzanians.
Livestock is an integral part of Tanzania's economy, the contribution of livestock industry to both Agricultural and Gross Domestic Product (GDP) is 13 percent and 6.1 percent respectively. About 40% of livestock GDP originate from beef production, 30% from dairy products and about 30% poultry and small stock production. The production of livestock products is showing a steady growth.
The ten leading manufacturers of animal feeds in Tanzania are as follows, with there installed capacity (tonnes/day) and utilised capacity (tonnes/day), respectively:
Kimara Animal feeds DSM 16 5
Lengesia DSM 10 / 3
Interchick DSM 66 / 20
Hill Animal feeds DSM 24 / 15
Twiga feeds Ltd DSM 25 / 10
Jadide DSM 15 / 5
Riyami DSM 15 / 5
A to Z DSM 30 / 16
Farmer's Center DSM 15 / 10
Amadori DSM 20 / 8