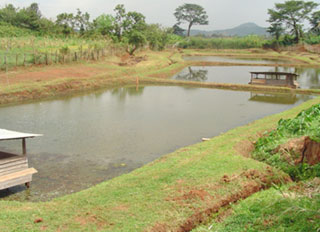 Fish farmers in Teso North and South districts will no longer be forced to travel long distances to buy their fish feed after the Government donated a fish feed manufacturing plant to the region.
The donation of the feed machinery, valued at Sh780,000, was part of the Kenyan fisheries ministry's Fish Farming Programme, setup in order to enchance fish farming in the region. The program was started in 2009.
Jared Agano, a Teso District Fisheries Officer, said that the machinery would help boost aquaculture production in the region, due to feeds being more readily available.
The installation of the machinery, according to Mr Agano, is an ongoing process but it is hoped that it will help solve the shortage in the availibility of pelleted fish feed in the region.
Jared Agano, said "fish farmers used to travel long distances to purchase feeds but with the setting up of the manufacturing plant here, the cost of fish production will be much lower." He continued saying that Teso South Fish Farmers Association had benefitted from the machinery after the ministry approved their proposal.
The modern plant is an electricity propelled machine with a production capacity of 2,000 tonnes of fish feed a day, which should be enough to feed 250 standard fish ponds daily.
Mid last year the Fisheries Ministry announced its plans to build fish feed factories in all counties in the country in order to boost the industry.
Vihiga, Kakamega, Busia and Bungoma counties would each see a fish feed factory constucted in their county as a way to increase the availibility of feeds and boost aquaculture production.
The new feed factories will produce fish feed from locally available raw materials and sell to local farmers at affordable cost.
The government aim to make aquaculture an important source of food, income and employment in the country. They claim that Kenya has a demand of 750,000 tonnes of fish but current production is only 150,000 tonnes.
As part of the plan a Sh60 million fish processing plant was planned for construction in Kakamega County as well as in Kamukuywa,Bungoma and Nangina, Busia.