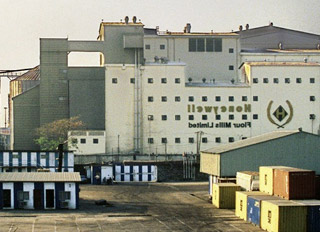 Today saw the inauguration of an ultra-modern Flour Mills' 70,000 metric tons integrated Eastern Feed Mills in Calabar, Cross River State, said to be sub-Saharan Africa's largest feed mill.
The multi-billion naira ultra-modern integrated Eastern Premier Feed Mills Company Limited is a subsidiary of Flour Mills of Nigeria plc.The feed mill with an installed capacity of 370,000 metric tonnes per annum, was built at a cost of about N5 billion (USD$27 million), will help to meet the projected sales growth of its animal feed brand - TOPFEED, within the next five to seven years in the Eastern and Southern parts of Nigeria.
FMN expressed confidence that its new investment would help to drive economic growth and industrial development of Nigeria and Cross River State in particular.
It said when fully on stream, the mill would be capable of turning the state into the home of well bred good chickens through its consistent top quality products.
The factory would create up to 1,000 direct jobs and 5,000 indirect jobs with multiplier effect on the economy, it added.
It would also improve the welfare of farmers, since raw materials would be sourced, not only from FMN group farms, but through aggregation by patronising out-growers and the open market.
The new plant complements the existing automated 300,000 metric tonnes per year animal feed factory commissioned in Ibadan in 2010 by a member of FMN Group Company, Premier Feed Mills Limited.
While announcing the commissioning, the Group Managing Director, Mr Paul Gbededo, stated that the strategic investment was in tandem with FMN's business model of improving group synergy, diversifying product base, responding to business dynamics and creating long term sustainable wealth and value for its stakeholders. He further noted that "it is also a key feature of FMN's strategic drive to grow its food and agro-allied value chains in consonance with Nigeria's Industrial Revolution Plan (NIRP) and Government's Agricultural Transformation Agenda (ATA).
Governor Imoke said the commissioning of the feed mill was a celebration of confidence which the investors have in the local economy, which shows that Nigeria is not only safe and good to do business, but has opportunities to do business.
"I am excited that Flour Mills will increase its investments in the state, and in few years, Cross River will become Chicken Republic. I appreciate the President because what we are seeing today is a realisation of his transformation agenda to turn Nigeria into the largest economy in Africa."
The governor explained that the state, through its policy, has created the right environment to become investors' haven to attain the status of a key destination through PPP; stressing that "we do not only want to be investors' haven, but also the next industrial hub in Nigeria."