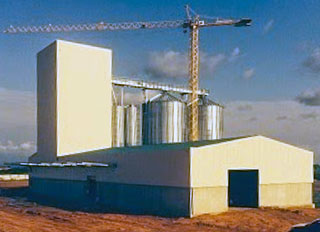 Former Vice President of Federal Republic of Nigeria, Atiku Abubakar, has turned his focus to agriculture and is currently set to launch a feed mill factory in outskirt of Yola, Adamawa state.
Work is almost done on the feed mill, with arrangements currently being made with local farmers for feedstock production.
"We must lead by example, and drive local investment. I'm currently in the farm, inspecting progress with the feed mill. We're almost done!" Atiku Abubakar said.
Abubakar stated that there are currently no automated animal feed mills in Northern Nigeria; and all of the production that happens is manual and small-scale. Considering that most of Nigeria's cattle production takes place in Northern Nigeria, you can see that there is plenty of opportunity for a feed mill business.
"For that reason we are now building, in partnership with a Portuguese company, a modern and automated animal feed mill (poultry and cattle) just outside Yola. When it is completed we hope to serve the entire Northern Nigeria with high quality animal feed. Because it will be fully automated it will create only a few direct jobs, but the number of indirect and support jobs – in sales and distribution – and the economic opportunity will be significant."