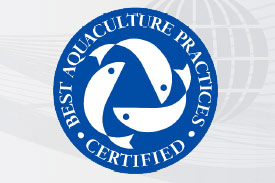 The Global Aquaculture Alliance (GAA) has published drafts of new Best Aquaculture Practices (BAP) standards for certification of aquaculture feed mills.
The two drafted documents - the standards/guidelines and the accompanying audit form - are available on the GAA website. The first outlines the standards and justifications for the requirements and how to most efficiently comply with the standards while the second describes how evaluators perform the review of feed mills for compliance with the BAP standards.
Apart from social and environmental responsibilities, the new feed mill standards encourage food safety and traceability. Several of the audit questions concern Hazard Analysis and Critical Control Points (HACCP) and effective manufacturing practices that handle potential chemical and other safety hazards through prevention, monitoring and corrective actions.
Certified feed mills will have to adhere to regulations on potential pathogens and contaminants in ingredients. Medicated feed, in turn, warrant special handling under the new standards.
Standard 3 on fishmeal and fish oil conservation states that feed mills should try to minimise dependence on wild-caught fish and harvest marine resources and oils sustainably. Feed facilities that are BAP-certified must display information regarding marine protein and oil levels used in feeds and derived from capture fisheries on their product labels or through alternative documentation.
In an effort to encourage responsible aquaculture practices in the industry, the GAA coordinates the development of BAP certification standards to be used in the evaluation of management practices from the stages of production through processing.
These standards address environmental and social responsibility as well as animal welfare, food safety and traceability in a certification programme that is voluntary for shrimp farms and hatcheries, tilapia and channel catfish farms and seafood processing plants. GAA is developing standards for aquaculture feed mills in order to complete the seafood value chain, and standards for other marine species are being developed as well.
The facilities certified on BAP standards may use the BAP certification mark in their advertising and labels for wholesale-level products, while a different mark is reserved for retail packaging.
The development and updating of BAP standards occurs via species-specific technical committees under the guidance of a Standards Oversight Committee, which is made up of members who broadly, but in a balanced way, represent the interests of stakeholders. All draft standards are posted for public comment before being implemented.
Comments on the BAP standards may be submitted through 31 October.