Extruders (Twin screw)
Manufacturers & Suppliers of Extruders (Twin screw)

HET Feed Machinery

Shanghai ZhengChang International Machinery and Engineering Co. Ltd.

Extrugroup

Magnum Feed Milling Systems

Clextral Inc

Chia Tung Development

Skiold A/S

Wenger Manufacturing, Inc.

Muyang Group

Almex BV.

Yeong Ming Machine Industrial Co., Ltd

Ferraz Maquinas e Engenharia LTDA

Rosal SA

Coperion GmbH

Ottevanger Milling Engineers

Muench-Edelstahl GmbH

The Bonnot Company

Insta-Pro International

Extru-Tech

Buhler AG

Amandus Kahl GmbH

Alvan Blanch

Andritz Feed and Biofuel A/S

IDAH

Five Continents Machinery Co

CPM Century Extrusion

American Feedmilling Systems Inc

Sevale Engineering Ltd

Anderson International Corp

Equipped with conditioner the injection of steam and water in either the preconditioner and/or the extruder, is adjustable.
Extruder for the production of pet feeds. (Cat feed, dog feed, bird feed, etc)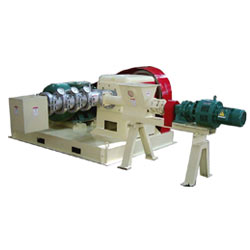 Dry extruders are designed to run without moisture or prior conditioning of the raw materials. Widely used for soybean, corn, low moisture highly expanded starch products, slaughtered animal waste, etc for use in the food and feed industries.