Good tensile strength, Good abrasion resistance, Good corrosion resistance, Good impact resistance, Good heat resistance, Good fatigue resistance.
- The specialized steel forge factories provide high quality steel forges.
- The specialized die factory with the manufacturing experience of more than 20 years manufactures the dies with advanced special-purpose gundrill, ensuring precise assembly size and arranging size of die holes.
- The specialized heat-treating factory carries out key heat-treatment for the semi-finished products with advanced heat-treating equipment such as vacuum furnace.
- The rich specialized design experience and marketing experience guarantee shape and depth of die hole and hole-opening rate, which can meet the different requirements of poultry and livestock feed and aquafeed and thus greatly improve the quality and high efficiency of pelleting.
- The specialized sales and after-sales service let the users use the dies at ease.
Ring die blank use the high-quality forging imported from Swiss STOSS Company: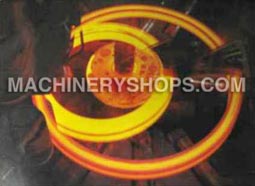 1. Material refining technology,fewer impurities,high purity,largely reducing harmful elements content(such as elements S,P ), thus comprehensive mechanical performance of material is raised.
2. Through roll forging, material is processed and strengthened and material fibre is complete and uniform, which increases integrated mechanical performance of material.
3. STOOSS Company has the world advanced forging equipment and technology,electronic data processing systems and perfect quality control system.
4. Ring die blank,generally chromiumalloy roll forgings, some factories use 45 ordinary carbon steel
5. Hardness of blank must be controled, ranging from HB170 to HB220.If the hardness is too high,the drill is easy to break and happens with die hole when drilling. If hardness is too low, the surface finish of die hole will be not good.
6. In order to control blank inner material uniformity, every blank must be carried out with fault detection, which can avoid defects such as flaw, pore-free,crackle and inclusions etc.
7. After machining and heat treatment process, hardness of ring die can be up to HRC 52-58(inner diameter less than 350mm),HRC50-56(inner diameter more than 350mm),more wearable and anti-corrosion.
8. In order to control hardness uniformity of ring die after heat treatment, we choose more than three points in each part of trisection of peripheral direction to test hardness and take average.The difference of hardness value between each part should not be higher than HRC4.
9. According to the principle of metal material science combined with gas quenching and C、Cr、Mn、Ni、V elements content is optimized, forming the standard of ring die raw material of Muyang.
Relation between die hole structure and pelleting:
Straight hole and release stepped hole is suitable for compound feed processing
External conical hole suitable for the processing of high-fibre feed like de-fat chaff
Internal conical hole and compression-type stepped hole applicable for the process of herbage powder feed of light proportion
We should try to avoid using release stepped hole(pressure-relief vent)
Because discharing is not easy for holes in the rows of the edge of ring die, pressure-relief vent is designed there.
To do the best, Sharpen tools first:
- Made of imported high-carbon high-chromium stainless billet steel,optimization carbon,thus enhancing wearing and corrosion resistance and hardness.
- It can deal with all kinds of die hole over &1.2mm (&1.2mm included) and compression ratio.
- Ring die can be produced up to 300mm-1500mm in diameter *500mm in height.
- In ring die processing, full automatic control, one-time molding for die hole, high smoothness.

1. Precision Machining:
Choose Korea hankook CNC machining center
CNC machining center ring die features high dimensional accuracy,geometric tolerance and surface roughness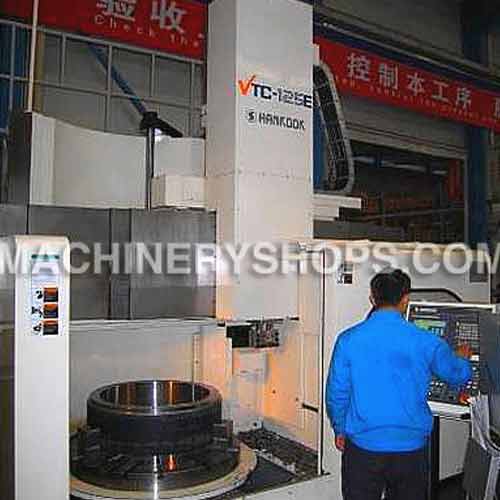 2. Hole Machining
Germany Mench gun drill
Workshop on-site: Completely automatic imported Germany Equipment IXION, rotating speed up to 18000 revolutions
Choose Germany IXION advanced special gun drill
Choose England MOLLART 8 shaft gun drill,Throughout Asia , only Muyang has this one machine, capable of processing external diameter 1.5m of ring die, rotate speed up to 17000 revolutions
Good quality gun drill equipment, tools and drilling hole software:
1. Die hole position high accuracy, up to 15 seconds per circle. High accuracy of position ensures both high dimensional accuracy and uniformity of materials and uniformity in die wearing and forces of radial direction and peripheral direction.
2. High rotating speed and imported tools and cooling liquid ensures process conditions as drilling required.Thanks to such conditions, the processed die hole features small roughness, Ra 0.8 and smoothness, which can ensure pelleting output, quality and debugging convenience.
3. The application of drilling hole software is favorable to increase porosity of ring die and optimize its way of aperture and therefore pelleting output, quality and service life of die is guaranteed.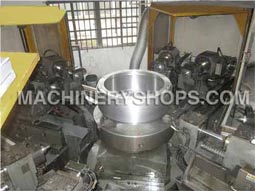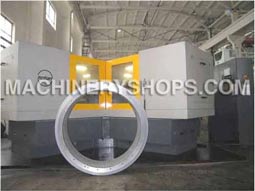 Choose Germany BOTEK gun drill tools, Choose GERMANY FUSI cutting oil
Use GERMANY IXION drilling hole software special for ring die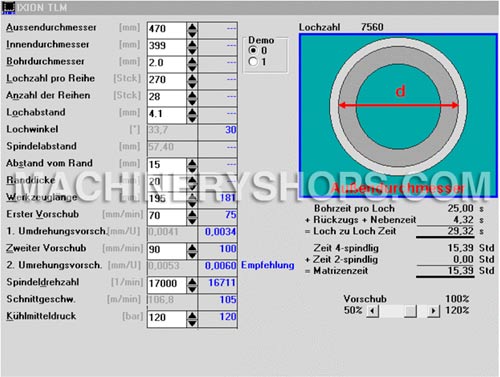 Muyang special forms of ring die drilling:
1. On the principle of material movement, in the conditions of same aperture ratio, ring die output in this kind of drilling is higher.
2. Among same types of ring die, Muyang aperture ratio is higher(take MYPD63φ2.0 for example, Muyang has 6000 holes more than other factory)
3. According to the principle of material extrusion and movement, this kind of ring die is not easily blocked.
4. This kind of hole drilling wearing cutter evenly and no sawtooth.

3. Vacuum Hardening
America Seco/Warwick vacuum furnace:
1. High vacuum degree, no oxidation reaction in ring die surface, ensuring original smoothness of die hole inner surface.
2. High vacuum degree,twisting bottom and convection heating minimize ring die deformation.
3. CNC controls process program, ensuring ring die quality stability.
4. With rationally adjusting heat treatment, heat preservation and cooling rate and time, microstructure of ring die can achieve its most suitable working conditions.
5. High cooling speed ensures more even distribution of carbide and hardenability and uniformity of ring die is guaranteed, contributing to balance using of ring die.